Whether you've got an empty corner of a room or some extra space in your basement, you can set up a home bar to enjoy with family and friends. Stock it with your favorite beverages for grown-up gatherings and replace them with soft drinks when kids come over.
Home Bar Design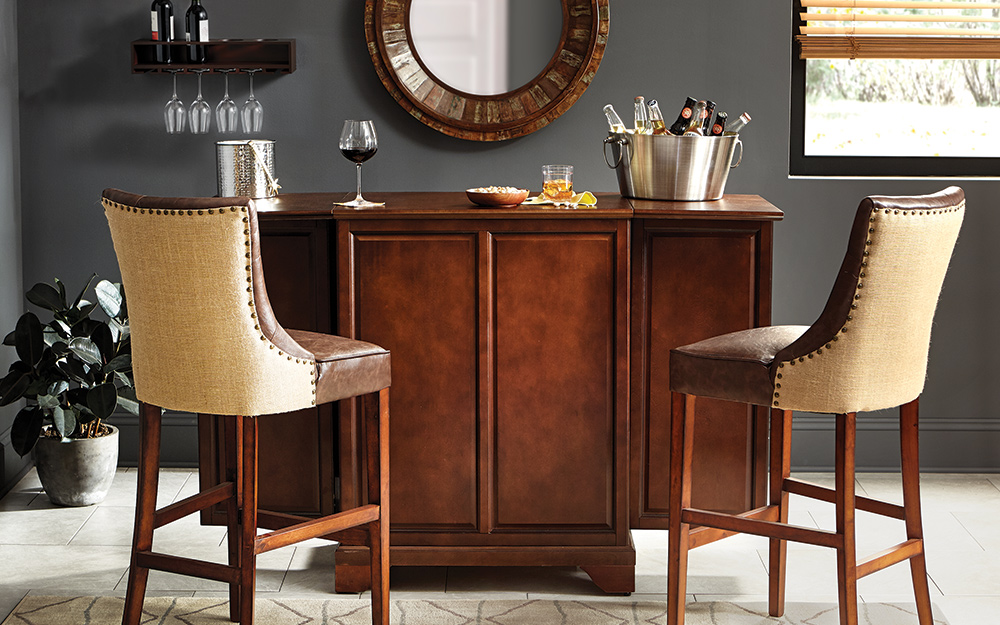 Ready-made bar sets and bar carts make it easy to set up a serving station in any space you have available. You can also design and make your own bar.
Home bars are called wet bars when they have a sink and running water. If you don't need water to wash glasses or a refrigerator to keep drinks cold, use a portable bar cart. Roll it into your living area when you're entertaining or outdoors to serve beverages and snacks on a deck or patio. With a mobile cart, you won't need plumbing or electricity. It can do double-duty in your kitchen as extra storage.
Ready-made bar cabinets and bar sets come in a variety of sizes, styles and finishes, and some look like fine furniture. Others feature the logos of popular football teams, car manufacturers and other special interests.
A complete home bar or wet bar gives you more space and flexibility. You may want to work with a contractor to install water lines, electrical outlets, assembled cabinets, customized cabinets, lighting or other features.
For a bar with a working sink, you'll need a countertop about 16 inches to 20 inches wide, including any molding. You may need a top up to 24 inches wide if you're using a bigger sink.
To fit stools under the bar, choose a top that hangs over the base of the bar by at least 8 inches. You can get by with less overhang if people are going to stand, not sit. Just make sure the bar top is balanced, so it won't tip if somebody leans on it or puts a heavy bottle on the edge.
To determine how long your bar should be, allow at least 2 feet of length for each person that will sit at it. For instance, a bar should be at least 8 feet long to comfortably seat four guests or 12 feet long for six guests.
Make sure you leave enough room to walk around your bar and prepare food and beverages behind it before you begin an installation.
Another counter, located under the counter you serve from, is useful if you want an out-of-sight area for cutting fruits for garnishes and storing bottles. This will take up some of the space behind the bar.
Standard bars are 42 inches tall from the base to the countertop. If you want to customize yours, be sure you can find bar stools that will fit under it, and that your guests will have room for their knees.
Make a bar rail by adding decorative hardwood edging or molding. The rail should slope slightly toward a guest who is seated at the bar. It can help keep glasses from slipping off the top.
If you want to include a draft beer dispenser, add that to your bar plan, so that you, your interior designer or contractor can leave space for it.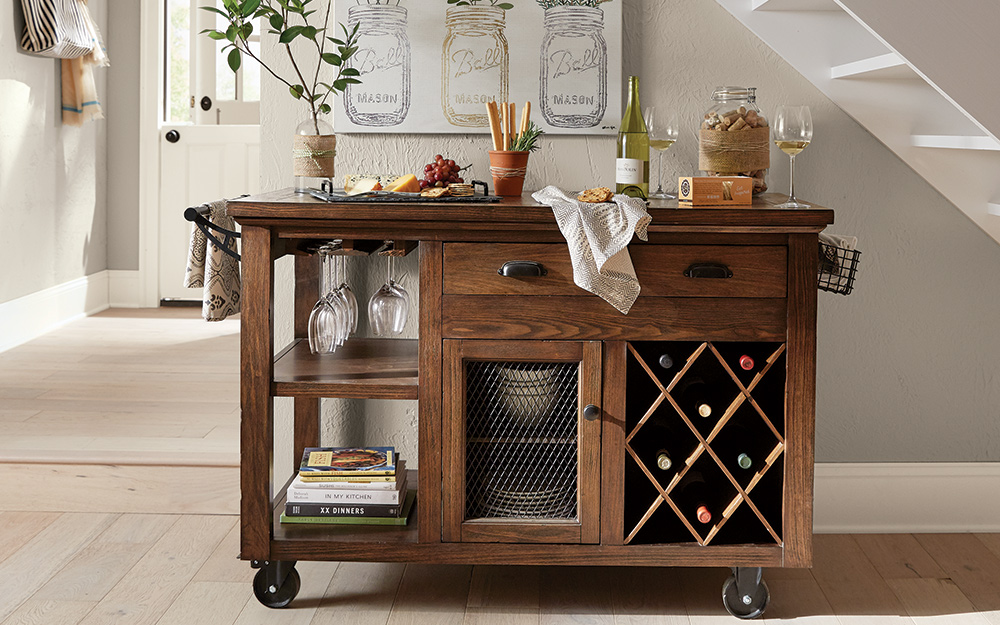 A home bar or wet bar can complement the style of your home or serve as a fun contrast. Let it express your personality, hobbies or interests.
If you collect coins, glue shiny pennies to a board to make a coppery bar top.
Turn a built-in bookcase or closet into a home bar. Adjust the shelves as needed to store bottles and glasses.
Tile your bar's backsplash in a neutral color and use bottle caps to make a colorful pattern or design.
Repurpose a thrift store armoire as a home bar. To avoid injuries, anchor it to a wall to be sure it won't tip over.
Put a large aquarium behind your home bar for a colorful, living backdrop.
Cut an opening into the side of a full-size whiskey or bourbon barrel and store your bar supplies inside. Use it in a man cave or basement or take it outdoors to your patio or deck.
Put wine racks in the unused area under your stairs to hold your wine collection.
Popular Home Bar Decor and Themes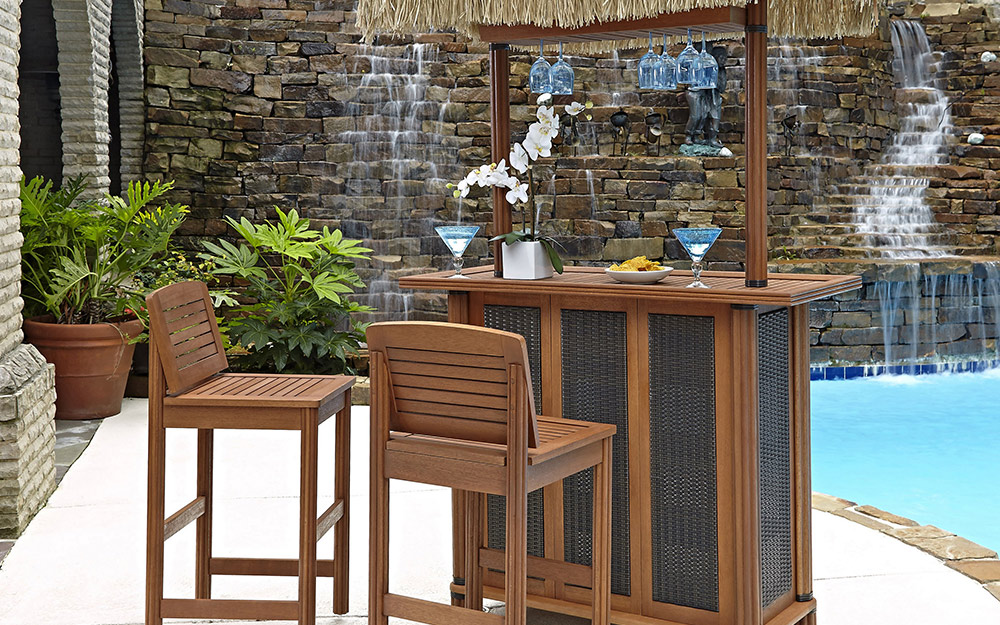 Give your home bar a theme with a few accessories and simple decorations.
Dress up a traditional style bar with atmospheric lighting. Use pendant lamps or drop strings of micro-lights into empty bottles to illuminate the bar top.
Go contemporary with a stainless steel refrigerator, stainless steel counter and leather stools. Keep the theme going with modern, minimalistic lighting fixtures.
For a rustic bar, hang wall art like a vintage-look marquee sign or distressed metal sign on the wall. Use a zinc countertop and medium to dark-toned wood for flooring. Add rustic lighting indoors and lanterns outdoors.
Get a beachy vibe with a Tiki bar. Use bamboo bar stools and accessories in bright colors like yellow, hot pink and blue. Hang a neon sign for fun.
Put a workbench in your man cave or basement. Add a cabinet underneath for bar essentials. Go for a home-handyman theme by accessorizing with tools and gadgets on a pegboard.
How to Build a DIY Home Bar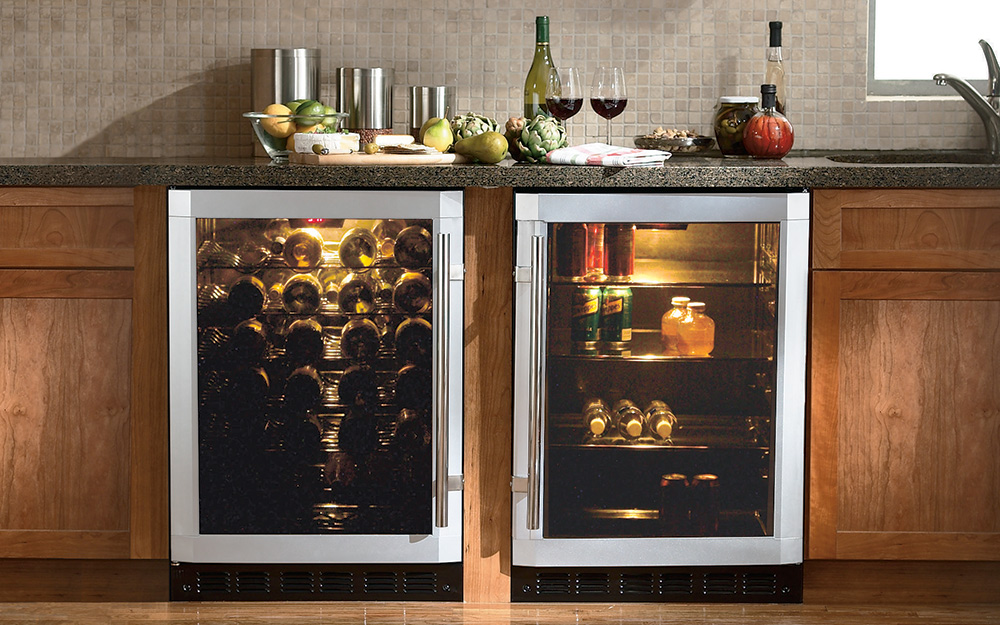 A DIY bar is easier than you might think.
You can build a dual-purpose cart to use in the garden or as an outdoor beverage station. Add a rod to hold bar towels and place wine bottles, glasses and an ice bucket on the shelves. Hang small bar tools and accessories from hooks.
You can also build a DIY bar with inexpensive, ready-made cabinets and a beverage cooler. Use it in a basement, man cave or other area, and choose the cabinet and cooler sizes that fit your space.
Popular Bar Tools and Supplies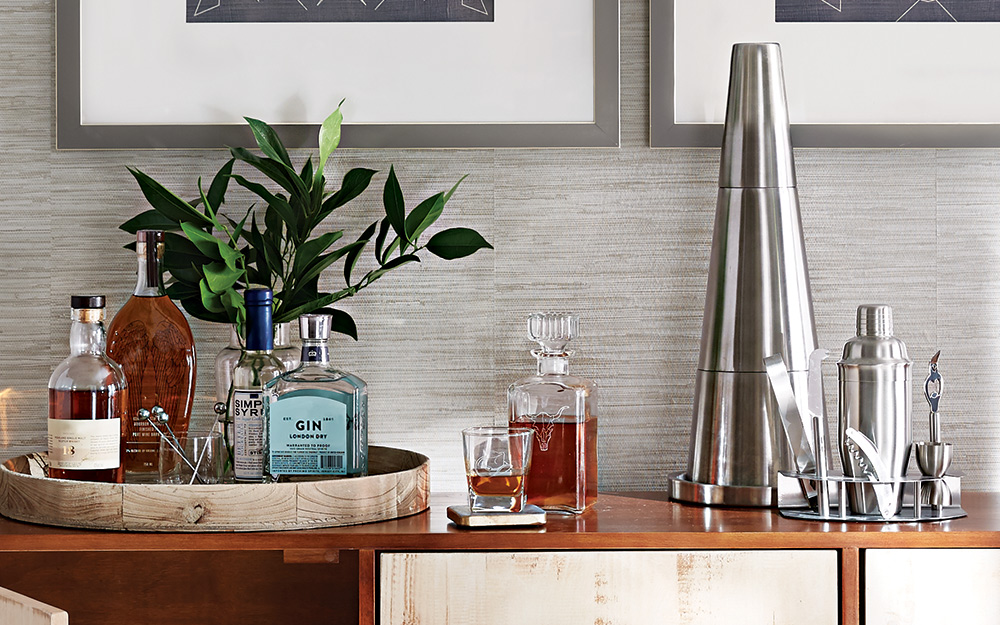 Stock your bar with your favorite spirits and liqueurs, mixers and an assortment of glasses. You'll also want to keep some bar tools and accessories on hand, including:
Aerators, stoppers, bottle chillers and other accessories for serving wine.
A cocktail shaker and a strainer, if the shaker doesn't come with one.
A corkscrew and bottle opener.
A muddler, a tool used to mash up sprigs of mint, fruits and other fresh ingredients.
Bar spoons to measure and stir ingredients.
A jigger, a two-ended measuring tool.